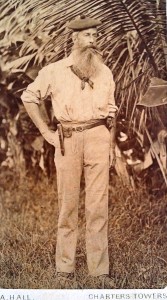 Author: Rosita Henry
Collector: John Archibald Boyd
Born: Weymouth, England, 1846
Died: Eden, New South Wales, 1926
Active : J.A. Boyd began collecting Aboriginal artefacts in the Wet Tropics region in 1882, the year he arrived at Ripple Creek Plantation near Ingham. He had become an experienced collector of natural specimens and artefacts during his earlier years in Fiji (1865-1882).
Photograph: J.A. Boyd at Ripple Creek, 29 January, 1888 (aged 42)
Background biography:  John Archibald Boyd was 11 years old when his family moved to Australia in 1857. He attended Sydney Grammar School (1858-1861) for a few years before leaving to work on a sheep station in Queensland and then at a bank in Sydney.
At the tender age of 19 Boyd adventurously decided to seek a living in Fiji. During his 16 years in Fiji, he purchased 700 acres to create a plantation on the island of Ovalau. There he married the daughter of the Fijian Chief of Lovoni, Ada Meri Matonisiga, to whom he had a son, Reginald (born 5 May 1870).
While in Fiji, J.A. Boyd became an avid collector of natural specimens and artefacts for Edward Ramsay, the curator of the Australian Museum in Sydney, for Alfred John North, an ornithologist also employed at the Australian Museum, and for Sir William John Macleay, an Australian politician and naturalist who eventually donated his collection to the University of Sydney in 1890 (the Macleay Museum).
In 1882, when his son Reginald (Reggie) was 12 years old, J.A. Boyd decided to return with his son to Australia to work for his brother in North Queensland, leaving his Fijian wife behind (there is evidence that they continued to correspond and that he sent her a remittance until her death in 1890). Boyd's brother, Mitchell, had asked him to help establish and manage his plantation at Ripple Creek, on the Herbert River near Ingham. Ripple Creek Plantation was owned by Mitchell Boyd in partnership with the brothers John and Joseph Wood from Newcastle.
According to his diary, J.A. Boyd arrived at Ripple Creek with his son Reggie on Friday 15 September 1882. His first purchase of Aboriginal artefacts appears to have been on Thursday 5 October 1882: "Bought for 1/2lb tobacco /2s/8d/ a shield & spear & got for 4 plugs some necklaces and a boomerang".
J.A. Boyd's diaries from 1882 to 1898 show that he purchased artefacts on numerous occasions directly from Aboriginal people for cash and/or tobacco. For example, on 9 January 1883 he records that he 'bought a Blacks waddy for tobacco'.
In 1883 Carl Lumholtz visited Ripple Creek: 'Dr Lumholtz came here tonight, he is a paid collector for the Christiana Museum. Asked him to stay but he put his specimens here & went to sleep at Gardiners' (Boyd diary 5th July 1883). Before his departure from Ripple Creek, Lumholtz presented Boyd with a medal that 'he had brought from Sweden to give to anyone interested in his science' (Boyd diary 7th July 1883).
Boyd's diaries reveal that he enjoyed life immensely at Ripple Creek, spending much of his spare time on horseback, hunting and fishing. He appears to have preferred this to socialising with the other white folk in the area. In one diary entry (10 July 1886) he notes that while his brother and the rest 'of the white men' were at the races 'Armstrong & I went out with Blacks after 4pm & shot a Wallaby each'.
There was a camp of Aboriginal people at Ripple Creek, some of whom were employed on plantation. Most Sundays, J.A. Boyd would call at 'the Blacks camp' to collect Aboriginal people and their camp dogs to accompany him on his hunting expeditions 'across the river'.  For example, his diary entry for 11 September 1887 reads: 'Crossed river with a few Blacks & Armstrong. Self got 8 Wallaby. Went to Corroberree at Blacks camp tonight'.
Boyd also records a number of camping trips during the Christmas holidays to Hinchinbrook Island where, according to his diary entry for 25 December 1882, they "Got a lot of oysters & the Blacks took us to where we could get water. Bought some fish spears, canoe etc"
J.A. Boyd lived and worked for many years at Ripple Creek. In 1893 he went on a trip to England and during his return journey on board ship he met the woman who was to become his second wife, Sarah (Jeanie) Miskin. Jeanie joined him at Ripple Creek where they were married in 1894. Their first child, a girl, was stillborn (Boyd diary 19 May 1895). She was buried in the cemetery plot on the plantation (the cemetery has since been destroyed and is today planted over with cane). In 1897 Jeanie gave birth to a healthy son, Archibald Sprott Boyd, a brother for Reggie, 27 years his senior.
While at Ripple Creek, J.A. Boyd actively tried to further his knowledge about the Australian Aborigines. He spent 29 December 1887 reading 'The Australian Race' by E.M. Curr, which had been published in 1886.
Boyd left Ripple Creek in 1898 after he was advised by his doctor to leave the tropics for the sake of his health. Before he departed he bought further artefacts, which he packed in cases and took with him to the home he eventually built at Eden on the south coast of NSW.  Most of these artefacts are still in the possession of his descendants, the bulk of them in the care of his granddaughter, Mrs Elaine Roberts (Archibald Sprott Boyd's daughter).
J.A. Boyd's son, Reggie, remained at Ripple Creek and later lived on his own property at Baalcooma in the North Kennedy District, North Queensland. He died a bachelor at the age of 49, on 20 April 1919.
Whether Reggie also collected artefacts is not clear. However, he clearly took an interest in Aboriginal culture. When the anthropologist A.W. Howitt sought information on the beliefs and practices of Aboriginal people from the vicinity of Ripple Creek, J.A. Boyd forwarded the questionnaire to his son. On 25 September 1901 he returned the questionnaire. Clearly not all that impressed with 'armchair' anthropological research, he recommended that Howitt actually do some field work!
'I have the pleasure of enclosing the questionnaire returned by my son with some remarks thereon…It occurs to me that if you could find the time to take a run to the Herbert River… you could acquire more information in a few days than in years of correspondence' (Letter from J.A Boyd to A.W. Howitt, 25 September, 1901).